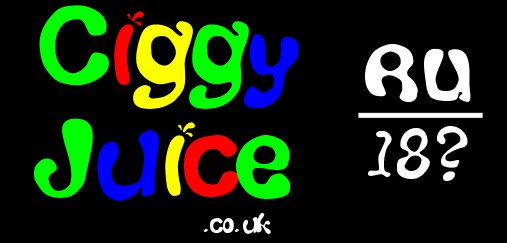 Website contains Vaping Equipment and Supplies
Please confirm that you are of Legal Age to purchase Vaping Equipment and Supplies in your country
So the bollocks that is the TPD is upon us!
Over the next few days / weeks as our stock runs low, your favourite CiggyJuice will disappear from the shelves of our on-line shop.
We were promised by the EU that the total cost of the TPD implementation for the whole of the UK would be around £1.2 Million
Our business model alone to give you (our customers) the choice that you so deserve would cost our little company in excess of £1 Million.

ONCE AGAIN THE EU HAVE LIED TO US ALL!

There are probably now some 3,000,000+ people in the UK who vape.
It's not going away!
It's a pity that had just 10% of them signed all the petitions in the past maybe the TPD would have been scrapped. Just imagine if all of them did, alas it's now too late!


We are not prepared, or, come to that able to spend that sort of money on registering thousands of stock products (SKU's) so we are going radically change what we do so you can still have your fav juice. All this will do is encourage the Black Market making the juice you buy from some potentially unsafe.
CiggyJuice was set up primarily because of rubbish service that Sue received as a new vaper, and it soon became a passion and a love to help others give up the fags, the thousands of customers we have helped gives us no amount of satisfaction and the new regulations have well and truly stomped on that pride.
From today across the EU you will only be able to buy 10ml bottles no stronger than 20mg (until ours and other suppliers stocks are exhausted) Final implementation will be in May 2017
An E Liquid, be it the cheapest on the market or the so called "premium" juice (provided the PG/VG & Nicotine is of good quality) is between 80% - 95% exactly the same, the difference between all of these liquids given the base is of good quality is the "Concentrate" (or flavour)
CiggyJuice will from now on only be selling 1 liquid (yes you read that right ONE)
This will be known as our "Base Liquid" called Plain
It will be supplied in bottles containing 10ml and in 2mg, 4mg, 6mg, 9mg, 12mg, 15mg & 18mg strengths.
all the above strengths will be available in 40%, 50%, 70% or 100% VG
We will also be selling 2ml bottles of flavour concentrate ready to add to 10ml of your flavourless base nicotine Elquid of your choice.
Just treat this as buying a packet of crisps (remember the ones) where you either had plain or could add the little blue bag of salt to make them ........ well salty!
It's not rocket science and together we will stick two fingers up to the EU and their rubbish rules they try to apply to us.



David, Sue & the CiggyJuice Team
21st November 2016



P.S. Zero mg & DIY Concentrates / ingredients (except nicotine) will not come under the TPD so will be continued to be supplied without any interference from the know it all EU
"Well I read in the newspaper that" ................. zzzzzzzzz
Concerned about Diacetyl or Popcorn Lung in E Liquid?


None of CiggyJuice Liquids / concentrates contain Diacetyl however..
Read this if you want to know the truth


Read even more tabloid rubbish about how Flavoured Eliquids generate Formaldehyde thus giving you cancer?
Then watch this!








Bestsellers
Featured